The Golden Trezzini, as always, meets new season with a new corporate colour. We will spend 2022 with a deep dark graphite tint of our branded poster and other visuals of the Awards. Applications for the 5th International Golden Trezzini Awards for Architecture and Design will start in March.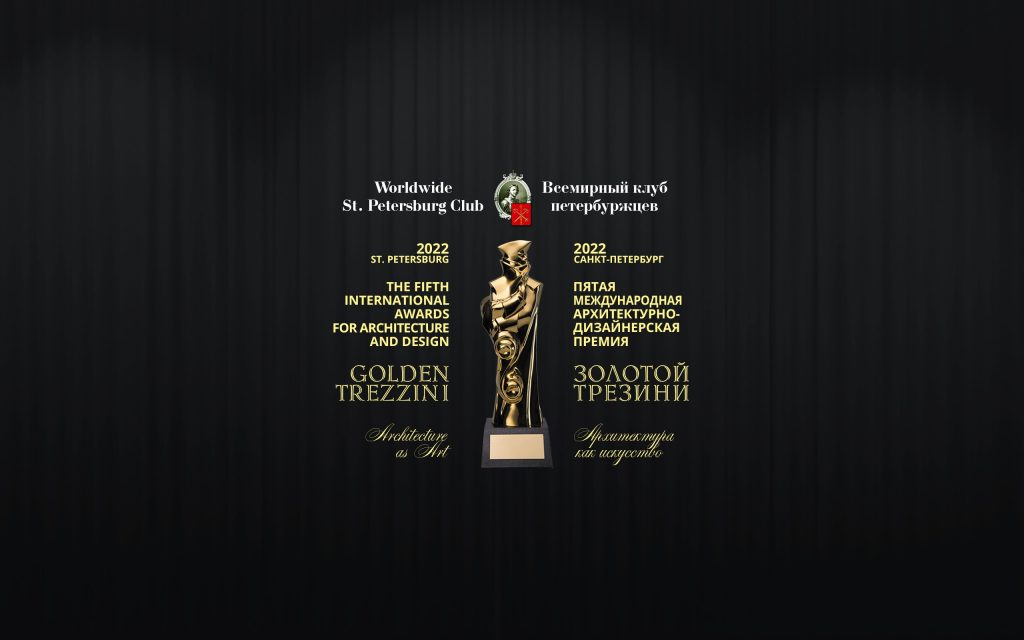 The Golden Trezzini Awards for Architecture and Design, established in 2018, are named after Domenico Trezzini (1670—1734), Russian architect of Swiss origin, the first architect of St. Petersburg, author of the Peter and Paul Cathedral, Twelve Collegia Building and other masterpieces of Petrine Baroque.
The Awards are held under the auspices of the Worldwide St. Petersburg Club. The awarding ceremony takes place annually in St. Petersburg, Russia and is broadcasted online.
The main prize is a gilded figurine of Domenico Trezzini.
The motto of the Awards is 'Architecture as Art'. The aim of the Awards is turning the most artistically valuable architectural, design, restoration, scenography, and exhibition projects into museum objects. The Golden Trezzini winning projects are transformed into museum exhibits in order to keep and showcase their historical, cultural, scientific and artistic value the best way. The best projects by competitors are added to the collection of the Architectural Graphics Fund of the Museum of St. Petersburg History and take part in an annual exhibition «Architecture as Art».
The Jury of the Awards brings together representatives of the diplomatic corps of different countries, authorities, the academic community, heads of museums, cultural and art figures, as well as professionals in the field of architecture, design, scenography.
The Honorary Chairman of the International Council of the Golden Trezzini Awards is Mikhail Piotrovsky, Director of the State Hermitage. Among the Council's members, there are Lord Norman Foster and Lady Elena Ochoa Foster, artists Ilya and Emilia Kabakov, heads of the State Russian Museum, Solomon R. Guggenheim Museum and Foundation, J. Paul Getty Museum, Gagosian galleries, Fondation Louis Vuitton, directors of a number of leading European art museums as well as representatives of the diplomatic corps and authorities from Russia, Switzerland, France, the UAE, and Republic of Korea.
The Jury includes more than 200 experts from 32 countries, worldly famous architects Daniel Libeskind, Mario Botta, Toyo Ito, Ricardo Bofill, Massimiliano Fuksas, Eduardo Souto de Moura, Chief Design Officer of Ferrari Flavio Manzoni being among them.
Applications for the 5th International Golden Trezzini Awards for Architecture and Design will be open in March 2022. We invite nominees from all over the world: developers and planners, architects and renovators, designers and interior decorators, theatre artists, as well as students of architecture schools and departments. Participation is free of charge.
2022 Golden Trezzini winners will be announced in November 2022 in St. Petersburg.
To see the full list of the Awards partners please check https://www.goldtrezzini.ru/en/partners2021/.
More news of the Golden Trezzini Awards:
https://goldtrezzini.ru/en/news/
Follow us on social media:
https://www.facebook.com/trezziniawards/
https://www.instagram.com/trezziniawards/