2019 production designed by Steven C. Kemp participates in the international competition, "Best Implemented Theatre Set Design" category.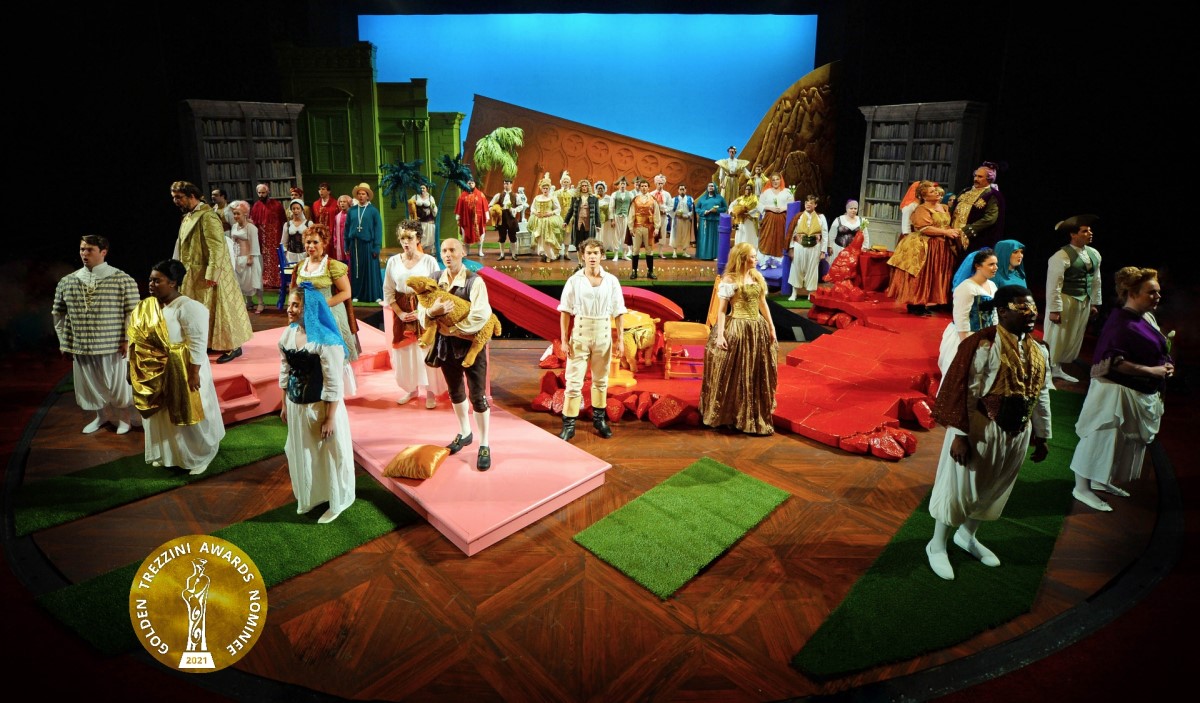 "In the unique thrust theatre of DMMO we set out to create a production to resonate for 2019 and to decode the challenges of the sprawling journey through the world of the opera," Steven C. Kemp explains. The solution was to design a progression from the isolated austere classical confines of the pristine Westphalia to the complicated layers of experiences and journeys at the end that lands Candide in a world of realization and true raw grounding. This is facilitated through the idea of fully unified color worlds of each adventure he is faced with and each country he visits. The beauty of this being that as each location is visited it stays a part of a greater kaleidoscope of experience and memory visually creating a rainbow of interlocking color punctuated in the end by the characters magically growing grass and tulips from all crevices of the set to establish the growing garden.
The production was realized within Des Moines Metro Opera festival, Blank Performing Arts Center, Indianola, Iowa, the USA.
The project on the Awards website https://www.goldtrezzini.ru/en/nominees/candide/.
The Golden Trezzini website users are more than welcome to vote for their preferred projects via Facebook, giving them a chance to win special Premio del Pubblico Award.
The Golden Trezzini Awards for Architecture and Design are named after Domenico Trezzini (1670—1734), Russian architect of Swiss origin, the first architect of St. Petersburg. The motto of the Awards is 'Architecture as Art'. The Domenico Trezzini gilded statuettes are awarded to the authors of architectural and designer projects that amount to works of art. The Honorary Chairman of the International Council for the Golden Trezzini Awards is Mikhail Piotrovsky, President of the World Club of St. Petersburgers and General Director of the State Hermitage.
2021 Golden Trezzini Awards winners will be awarded in November during the Gala-Night at the Mikhailovsky Theatre. The best projects by competitors will be added to the collection of the Architectural Graphics Fund at the Museum of St. Petersburg History and take part in an annual exhibition at the Peter and Paul Fortress.
Entries are open from March 15 till October 1 at https://www.goldtrezzini.ru/en/application2021/. Nominees from all over the world are invited. More than 80 projects from 25 countries have been already accepted. Participation is free of charge.
The General Partner of the Awarding Ceremony is the Mikhailovsky Theatre. The General Museum Partner is the State Museum of St. Petersburg History. The independent auditor is Borenius Attorneys Russia Ltd. To see a full list of the Awards partners please check https://www.goldtrezzini.ru/en/partners2021/.
Photo by Duane Tinkey.
More news of the Golden Trezzini Awards:
https://goldtrezzini.ru/en/news/
Follow us on social media:
https://www.facebook.com/trezziniawards/
https://www.instagram.com/trezziniawards/
Official partners
Media partners