A museum of Jewish history in Cluj-Napoca, Romania, has been nominated for 2021 Golden Trezzini Award.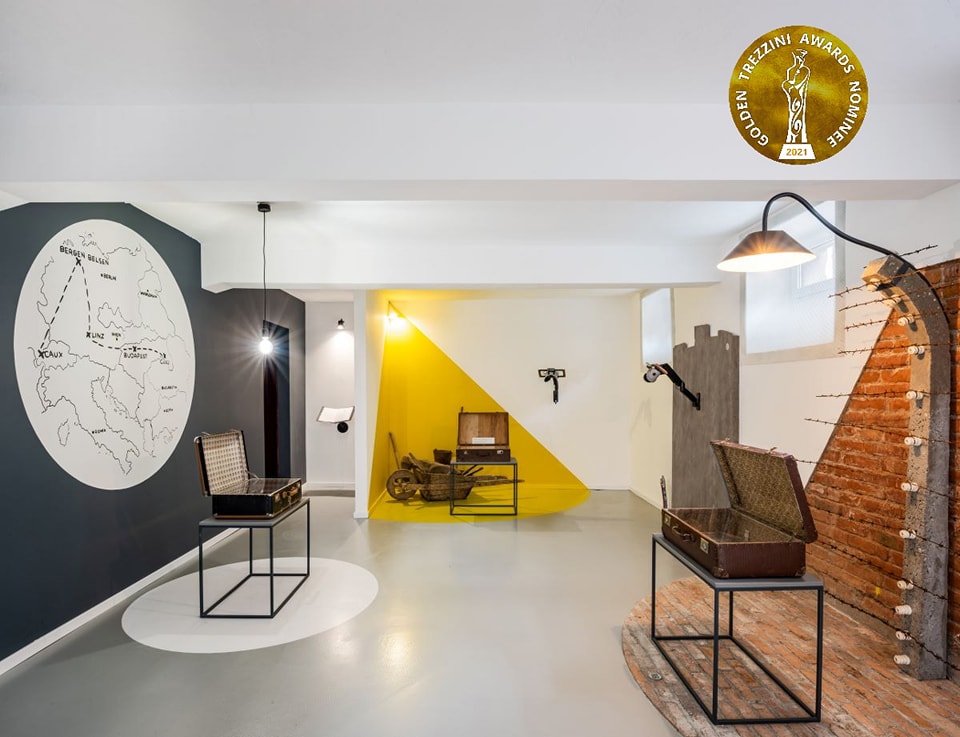 In 2021, Muzeon project is one of the Golden Trezzini competition participants in the "Best Implemented Project of Temporary or Permanent Museum Exposition" category. It is an innovative museum of Jewish history in Cluj, started from a personal search of the curators in their family past. It is an experience, not a traditional museum, based more on personal stories than on exhibition objects, each visitor going through the space with the help of a character who audio guides him. The visual concept supports the audio journey, transposing or intensifying a certain atmosphere and is very connected to the audio story. Each space is visually independent for better support of the audio story, some spaces have realistic elements while others are much more abstract. Lighting is an important element, which takes into account the state of the community, if at first everything is bright, the light gradually decreases towards the period of anti-Semitism, the wagon is almost in darkness, then each character's path is put in a different light cone, then bright light comes again.
The exhibition was designed by Atelier MASS architectural studio and open in 2020.
The project on the Awards website https://www.goldtrezzini.ru/en/nominees/muzeon/.
The Golden Trezzini website users are more than welcome to vote for their preferred projects via Facebook, giving them a chance to win special Premio del Pubblico Award.
The Golden Trezzini Awards for Architecture and Design are named after Domenico Trezzini (1670—1734), Russian architect of Swiss origin, the first architect of St. Petersburg. The motto of the Awards is 'Architecture as Art'. The Domenico Trezzini gilded statuettes are awarded to the authors of architectural and designer projects that amount to works of art. The Honorary Chairman of the International Council for the Golden Trezzini Awards is Mikhail Piotrovsky, President of the World Club of St. Petersburgers and General Director of the State Hermitage.
2021 Golden Trezzini Awards winners will be awarded in November during the Gala-Night at the Mikhailovsky Theatre. The best projects by competitors will be added to the collection of the Architectural Graphics Fund at the Museum of St. Petersburg History and take part in an annual exhibition at the Peter and Paul Fortress.
Entries are open from March 15 till October 1 at https://www.goldtrezzini.ru/en/application2021/. Nominees from all over the world are invited. More than 80 projects from 25 countries have been already accepted. Participation is free of charge.
The General Partner of the Awarding Ceremony is the Mikhailovsky Theatre. The General Museum Partner is the State Museum of St. Petersburg History. The independent auditor is Borenius Attorneys Russia Ltd. To see a full list of the Awards partners please check https://www.goldtrezzini.ru/en/partners2021/.
More news of the Golden Trezzini Awards:
https://goldtrezzini.ru/en/news/
Follow us on social media:
https://www.facebook.com/trezziniawards/
https://www.instagram.com/trezziniawards/
Official partners
Media partners