The building by Atizist studio participates in the "Best Implemented Project of Public Building or Facility" category.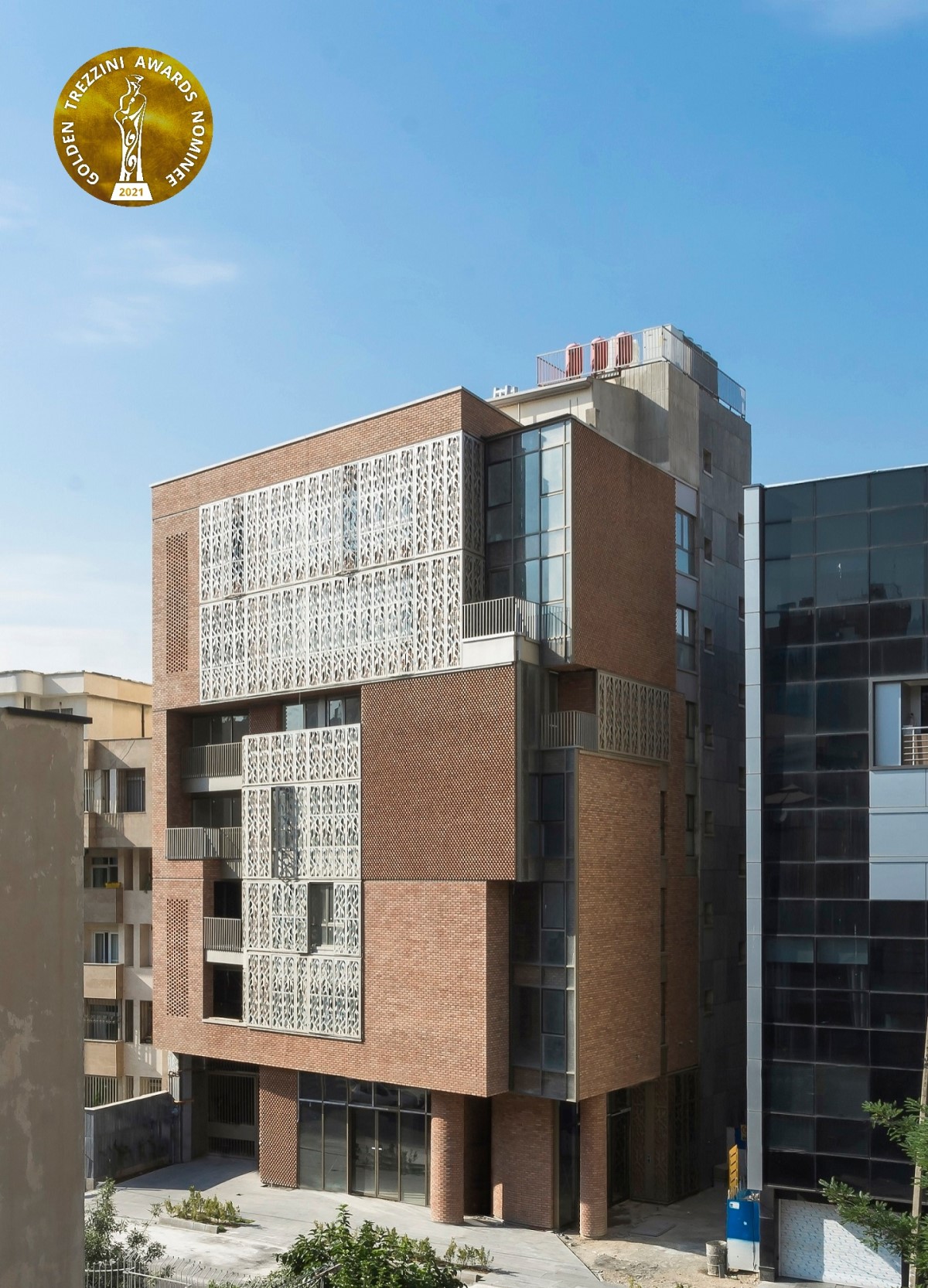 "In the design of Nahid office and commercial building, by considering the presence of users in their working place in most hours of the day, we have achieved a different quality," Atizist architects state.
Design of this building delivers an environmental concept to the observer. The connection of the internal spaces to the exterior is easily possible by locating the vertical access to the edge of the building. The interior design approach places a lot of emphasis on transparency and openness of office space, not only does it provide a healthy administrative space, but also creates a different concept of an office building. Given that the location of the project is in a dense context of the city, a limited material palette was chosen for the facade. Simple brick layout patterns and kinetic porous sheet metal to refract intense southern light.
The building, finished in 2020, is located on Jordan Street, Tehran, Iran.
The project on the Awards website https://www.goldtrezzini.ru/en/nominees/nahid-office-commercial-building/.
The Golden Trezzini website users are more than welcome to vote for their preferred projects via Facebook, giving them a chance to win special Premio del Pubblico Award.
The Golden Trezzini Awards for Architecture and Design are named after Domenico Trezzini (1670—1734), Russian architect of Swiss origin, the first architect of St. Petersburg. The motto of the Awards is 'Architecture as Art'. The Domenico Trezzini gilded statuettes are awarded to the authors of architectural and designer projects that amount to works of art. The Honorary Chairman of the International Council for the Golden Trezzini Awards is Mikhail Piotrovsky, President of the World Club of St. Petersburgers and General Director of the State Hermitage.
2021 Golden Trezzini Awards winners will be awarded in November during the Gala-Night at the Mikhailovsky Theatre. The best projects by competitors will be added to the collection of the Architectural Graphics Fund at the Museum of St. Petersburg History and take part in an annual exhibition at the Peter and Paul Fortress.
Entries are open from March 15 till October 1 at https://www.goldtrezzini.ru/en/application2021/. Nominees from all over the world are invited. Participation is free of charge.
The General Partner of the Awarding Ceremony is the Mikhailovsky Theatre. The General Museum Partner is the State Museum of St. Petersburg History. The independent auditor is Borenius Attorneys Russia Ltd. To see a full list of the Awards partners please check https://www.goldtrezzini.ru/en/partners2021/.
More news of the Golden Trezzini Awards:
https://goldtrezzini.ru/en/news/
Follow us on social media:
https://www.facebook.com/trezziniawards/
https://www.instagram.com/trezziniawards/
Official partners
Media partners