A Tambov Youth Theatre performance is nominated for 2022 Golden Trezzini in the "Best Implemented Theatre Set Design" category.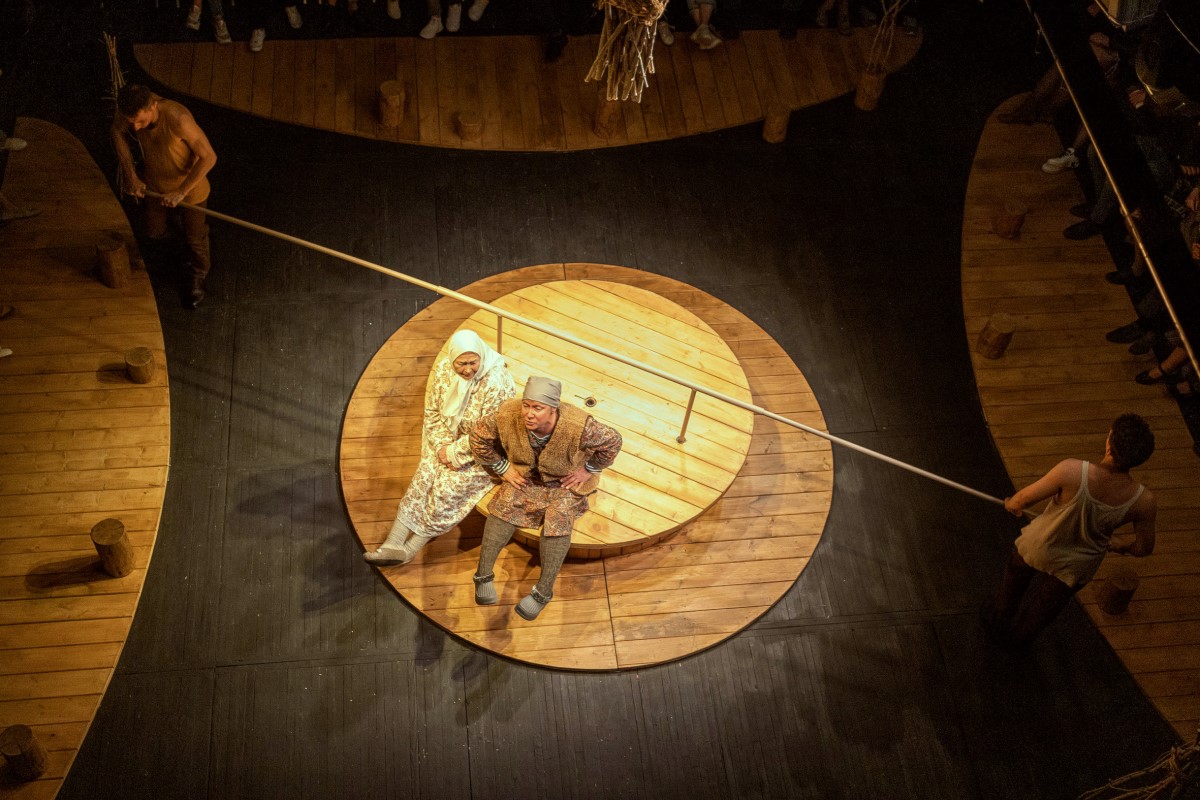 Deadline was directed by Mikhail Egorov and designed by Evgeny Nikonorov, award-winning theatre artist from Moscow, the name behind more than 60 performances in and outside Russia.
The timing in Deadline, stages version of Valentin Rasputin's novel, covers just three days. These are the days it takes old Anna to say goodbye to her children and give her life a second thought. The stage design is more metaphorical than detailed. Viewers sit along the stage perimeter, a circle in its middle. The play was acknowledged as the main event of the theatre season 2021-22 at the 8th Tambov Theatre Festival.
All Golden Trezzini website users can now vote for their preferred projects at the Awards' official website. The results will determine the winner of the special Premio del Pubblico (People's Choice Award), which is to be announced on November, 15. To vote for Deadline, one should click the "like" icon at the bottom of the project's description https://www.goldtrezzini.ru/en/nominees/rasputin/. Voting for People's Choice Award winner takes place separately and independently from the Jury's voting.
The Golden Trezzini Awards for Architecture and Design, established in 2018, are named after Domenico Trezzini (1670—1734), Russian architect of Swiss origin, the first architect of St. Petersburg. The Honorary Chairman of the International Council of the Awards is Mikhail Piotrovsky, director of the State Hermitage.
The motto of the Awards is 'Architecture as Art'. The aim of the Awards is turning the most artistically valuable architectural, design, restoration, scenography, and exhibition projects into museum objects. The Golden Trezzini winning projects, selected by more than 230 experts from 34 countries are transformed into museum exhibits in order to keep and showcase their historical, cultural, scientific and artistic value the best way.
By now, more than 250 works from 40 countries have been approved for participation, and there is only one month left for potential nominees to submit their projects. Applications are open at https://www.goldtrezzini.ru/en/ till September 15, 2022. We invite nominees from all over the world: developers and planners, architects and renovators, designers and interior decorators, theatre artists, as well as students of architecture schools and departments. Participation is free of charge.
The Golden Trezzini Awards Gala ceremony will take place on November, 15, 2022 in St. Petersburg.
---
2022 Golden Trezzini Awards partners: Strategic partner of the awarding is Etalon Group, Official partners of the Gala evening are Rosseti FGC UES, KADO, and LenRusStroy Construction Corporation. See https://www.goldtrezzini.ru/en/2022partners/ for the complete list of partners.
More news of the Golden Trezzini Awards:
https://goldtrezzini.ru/en/news/
Follow us on social media:
https://www.facebook.com/trezziniawards/
https://www.instagram.com/trezziniawards/