Urubici Lodge in Santa Catarina, Brazil, joined the "Best Project of Private Residence" category.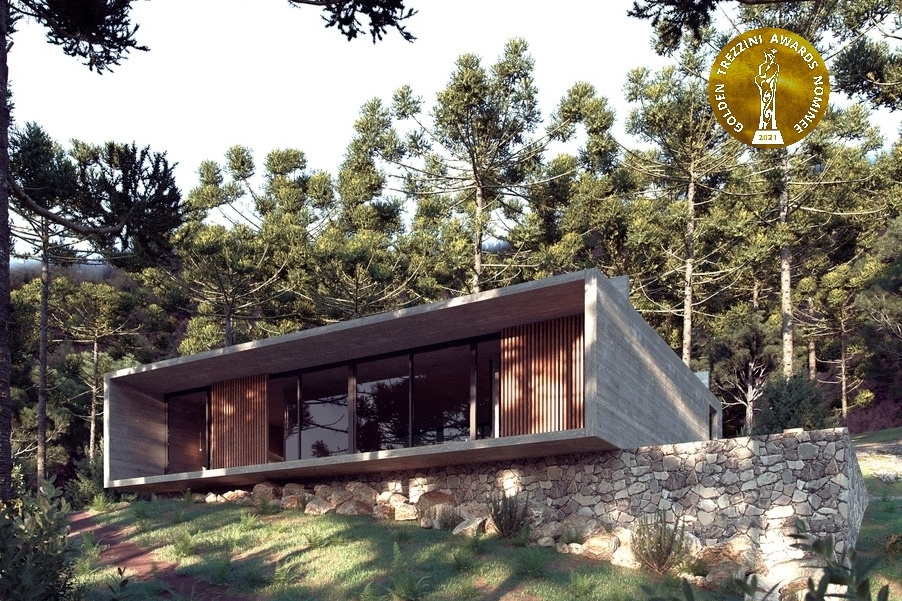 "We respect the avant-garde, but we prefer to design based on the lessons left by the great Brazilian architects. We base our work on the composition of pure forms; the use of materials in their essence; the structural logic and the relationship with the local. It may seem paradoxical, but we are traditionally modern," architects of Luciano Lerner Basso bureau state.
A concrete and glass box that is supported by a containment wall of local stones. A concrete and glass box that rests on a retaining wall built with the stones of the site. A refuge in the middle of the forest.
The house, designed in 2019, is to be constructed in Urubici, Santa Catarina Brazilian state.
The project on the Awards website https://www.goldtrezzini.ru/en/nominees/urubici-lodge/.
The Golden Trezzini website users are more than welcome to vote for their preferred projects via Facebook, giving them a chance to win special Premio del Pubblico Award.
The Golden Trezzini Awards for Architecture and Design are named after Domenico Trezzini (1670—1734), Russian architect of Swiss origin, the first architect of St. Petersburg. The motto of the Awards is 'Architecture as Art'. The Domenico Trezzini gilded statuettes are awarded to the authors of architectural and designer projects that amount to works of art. The Honorary Chairman of the International Council for the Golden Trezzini Awards is Mikhail Piotrovsky, President of the World Club of St. Petersburgers and General Director of the State Hermitage.
2021 Golden Trezzini Awards winners will be awarded in November during the Gala-Night at the Mikhailovsky Theatre. The best projects by competitors will be added to the collection of the Architectural Graphics Fund at the Museum of St. Petersburg History and take part in an annual exhibition at the Peter and Paul Fortress.
Entries are open from March 15 till October 1 at https://www.goldtrezzini.ru/en/application2021/. Nominees from all over the world are invited. Participation is free of charge.
The General Partner of the Awarding Ceremony is the Mikhailovsky Theatre. The General Museum Partner is the State Museum of St. Petersburg History. The independent auditor is Borenius Attorneys Russia Ltd. To see a full list of the Awards partners please check https://www.goldtrezzini.ru/en/partners2021/.
More news of the Golden Trezzini Awards:
https://goldtrezzini.ru/en/news/
Follow us on social media:
https://www.facebook.com/trezziniawards/
https://www.instagram.com/trezziniawards/
Official partners
Media partners