Theatre set design project from Perm, Russia, is going to compete for the title of this year's leader.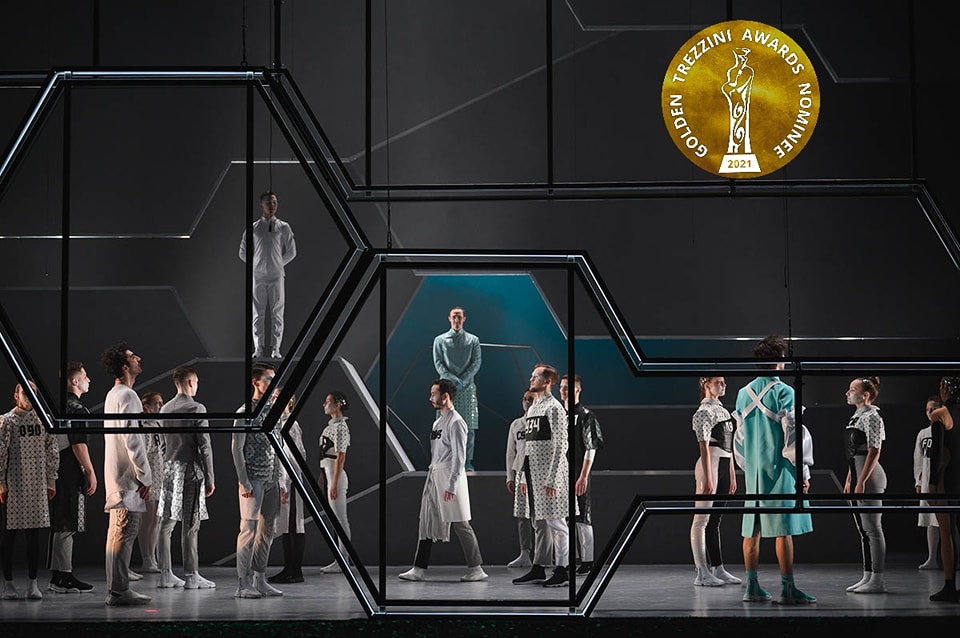 The Wild World and the Single State – these are two main spaces for the We performance after Zamyatin's novel "We." The Single State features much white and grey, it is sterile and universal, graphical and well-ordered.
A curtain made of transparent metal elements represents a wall between the Single State and the Wild World, which is located at the apron-stage and in the audience hall. It lets us view the heroes as if through a camera lens. The symbol of the play are two identical hexagons, apathetic and stable just like the life in the Single State, but with energy of motion and love hidden inside. Another geometrical figure is a dodecahedron.
Vera Nikolskaya is the set designer of the performance implemented at the Perm Academic Theatre.
The project on the Awards website https://www.goldtrezzini.ru/en/nominees/my/.
The Golden Trezzini website users are more than welcome to vote for their preferred projects via Facebook, giving them a chance to win special Premio del Pubblico Award.
The Golden Trezzini Awards for Architecture and Design are named after Domenico Trezzini (1670—1734), Russian architect of Swiss origin, the first architect of St. Petersburg. The motto of the Awards is 'Architecture as Art'. The Domenico Trezzini gilded statuettes are awarded to the authors of architectural and designer projects that amount to works of art. The Honorary Chairman of the International Council for the Golden Trezzini Awards is Mikhail Piotrovsky, President of the World Club of St. Petersburgers and General Director of the State Hermitage.
2021 Golden Trezzini Awards winners will be awarded in November during the Gala-Night at the Mikhailovsky Theatre. The best projects by competitors will be added to the collection of the Architectural Graphics Fund at the Museum of St. Petersburg History and take part in an annual exhibition at the Peter and Paul Fortress.
Entries are open till October 1 at https://www.goldtrezzini.ru/en/application2021/. Nominees from all over the world are invited. More than 100 projects from 32 countries have been already accepted. Participation is free of charge.
The General Partner of the Awarding Ceremony is the Mikhailovsky Theatre. The General Museum Partner is the State Museum of St. Petersburg History. The independent auditor is Borenius Attorneys Russia Ltd. To see a full list of the Awards partners please check https://www.goldtrezzini.ru/en/partners2021/.
More news of the Golden Trezzini Awards:
https://goldtrezzini.ru/en/news/
Follow us on social media:
https://www.facebook.com/trezziniawards/
https://www.instagram.com/trezziniawards/
Official partners
Media partners