On September, 3, 2020, the exhibition Architecture as Art. Winners of the 2nd Golden Trezzini Awards for Architecture and Design is opening at the exhibition venue of the Ioannovsky Ravelin within the Peter and Paul Fortress.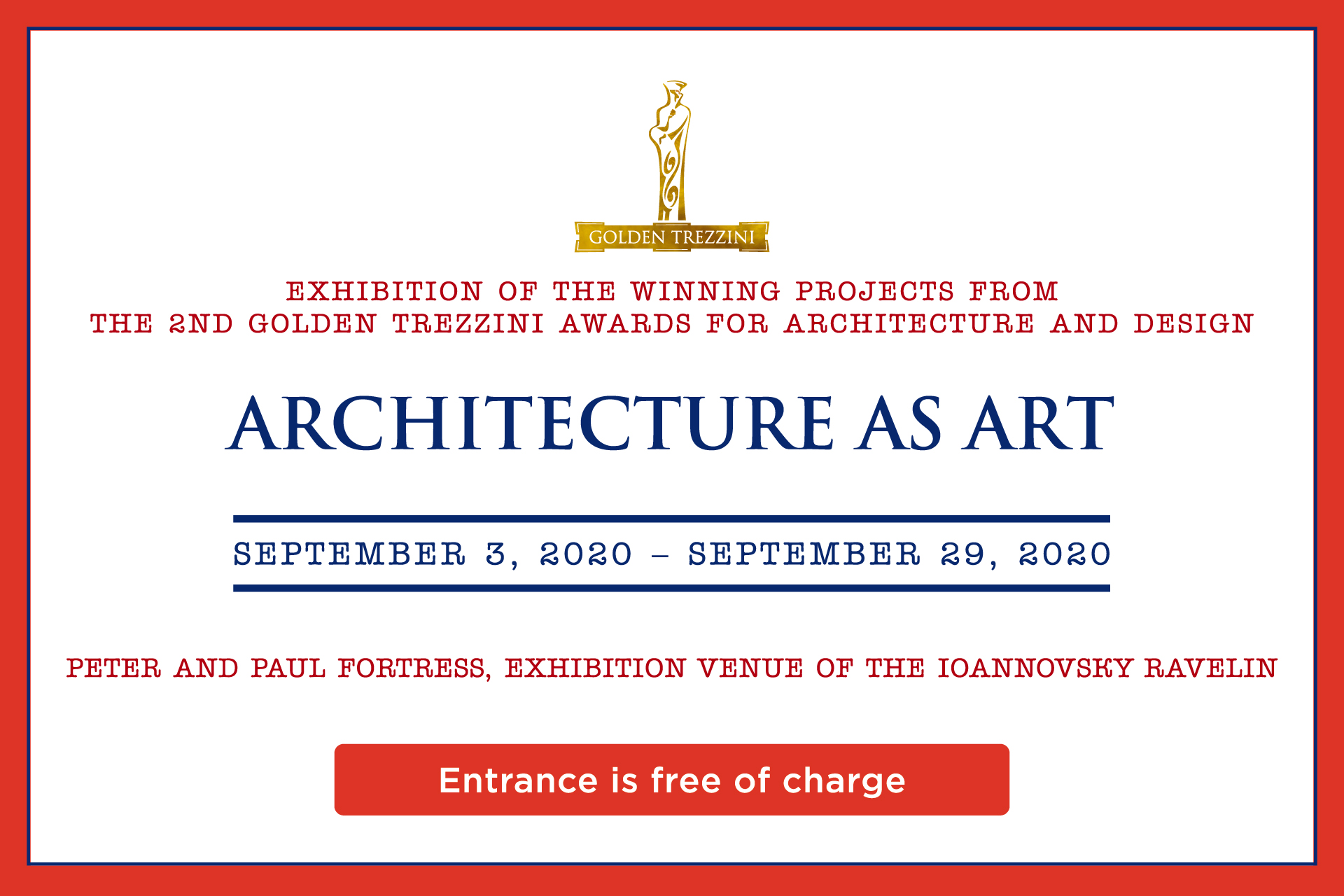 The exposition will present the winning projects from the 2nd All-Russian Awards with global participation, named after the first architect of St. Petersburg – Domenico Trezzini (1670–1734). The exhibition will be welcoming visitors from September 3 through 29. The access will be free of charge for everyone, with due regard to health and epidemiologic safety requirements.
"The Architecture as Art exhibition is an attempt to comprehend the most advanced projects in architecture and design as artistic culture objects," says Pavel Chernyakov, Chairman of the Arrangements Committee for the Golden Trezzini Awards. "This attempt is highly pertinent today, when the market shocked with coronavirus is expelling the idea of architecture as art being a result of artistic creation that originates from the author's concept."
Besides the works by the Golden Trezzini winners, the exhibition will showcase a slideshow of all the 350 projects submitted to the Awards by participants from 50+ cities and regions of Russia, Belarus, Kazakhstan, Abkhazia, Great Britain, Latvia, the UAE, South Korea, and Finland.
A special place at the exposition will be given to a model sample of the gilded Domenico Trezzini figurine. As soon as the exhibition ends, the organizers of the Awards will give the figurine to the State Museum of St. Petersburg History as a gift along with all the winning projects of the Golden Trezzini. The latter are to be added to the Museum's collection of architectural graphics.
Meanwhile, through October 15, 2020, entries for the 3rd Golden Trezzini Awards are accepted at the web-site www.goldtrezzini.ru/en/. Any projects by participants from all over the world are welcome as long as they have been designed or implemented after January 1, 2018. Participation in the Awards is free of charge.
The printing partner of the exhibition is ROST company. The printing partner is Elspace.
The General Partner of the Golden Trezzini Awards is the State Museum of St. Petersburg History. The System Partner is RBI Group. Partner of a Special nomination is YIT. Official partner of the Awarding ceremony is LenRusStroy Building Corporation. Partner of the Awarding ceremony is Ganga Group. To see a full list of the Awards partners please check https://goldtrezzini.ru/en/partners-of-the-golden-trezzini-awards-2020/.
Architecture as Art
Exhibition of the winning projects from the 2nd Golden Trezzini Awards for Architecture and Design
September 3, 2020 – September 29, 2020
Location: The Peter and Paul Fortress, the exhibition venue of the Ioannovsky Ravelin
Phone: +7 (812) 230-64-31; +7 (812) 498-19-85
Opening hours: 11 a. m. to 7 p. m. (6 p. m. on Tuesdays)
Day off: Wednesday
Entrance is free of charge
Our news on social media:
https://www.facebook.com/trezziniawards/
https://www.instagram.com/trezziniawards/
State Museum of St. Petersburg History
+7 (812) 498-05-03, 498-07-13
[email protected]
www.spbmuseum.ru http://vk.com/spb_museum
https://www.facebook.com/spbmuseum
https://www.instagram.com/spbmuseum
Official partners
Media partners