An extraordinary residential tower in the Indian state of Jharkhand entered the top three Best Constructed Premium or Business Class Residential Estates.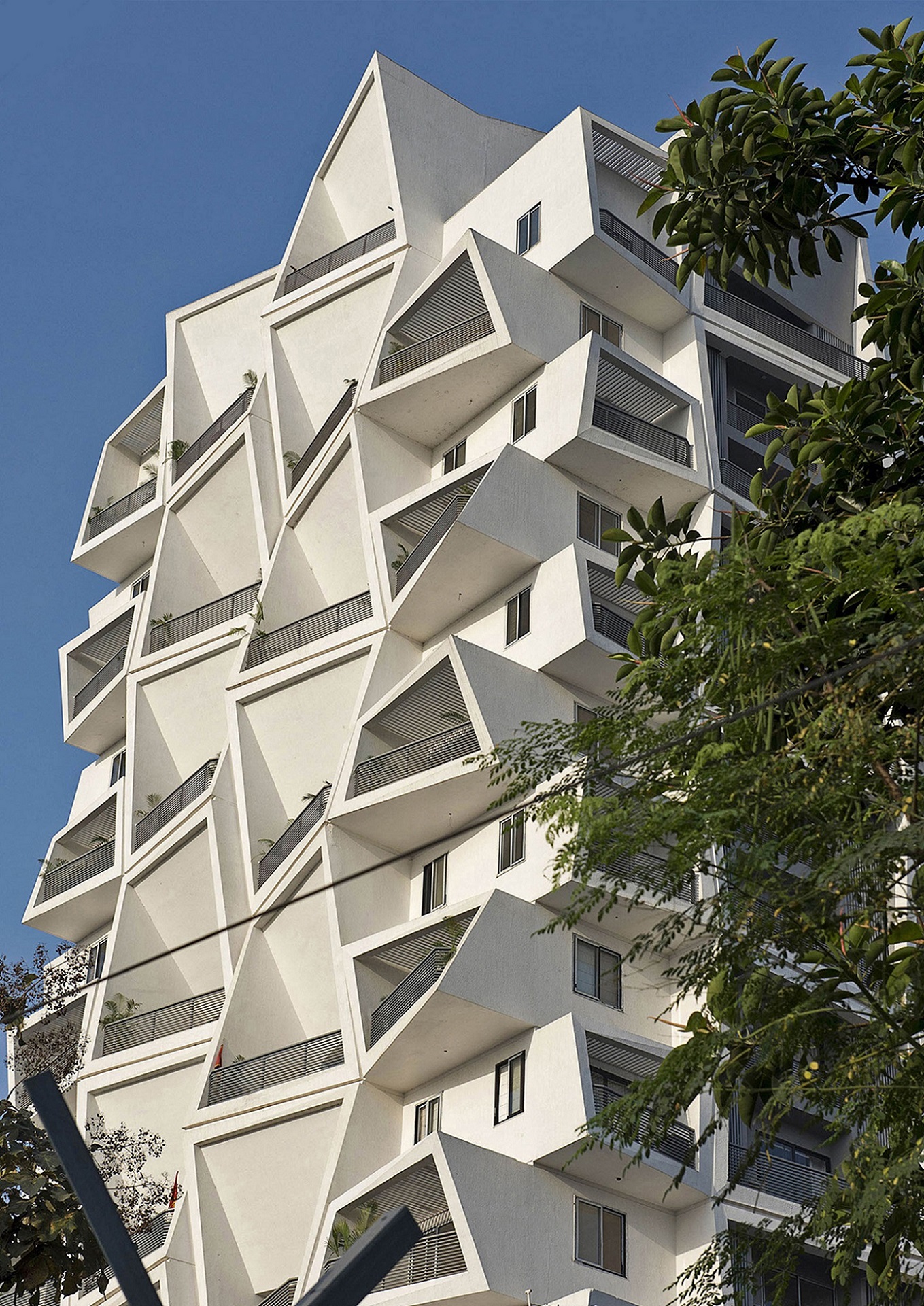 Situated in Ranchi, Jharkhand, India, and designed by Sanjay Puri Architects, Ishatvam 9 is a residential building on a small plot of 1800 sqm. Most of this city has existed with low rise development. The last few years have witnessed rapid urbanization & in response to this the governing rules have been changed to allow 50m height & buildable area 3 times the plot size. Most of the city's inhabitants have been used to living in individual houses with private gardens & open spaces. Therefore, the apartments in Ishatvam 9 have been designed to occupy a complete floor with each room extending into 20' feet high, double height decks.
Temperatures in Ranchi vary from 31⁰C average in the summer months & 12⁰C in the winter months. The extended decks for each room shelter the internal spaces from the excessive heat in the summer while becoming landscaped outdoor extensions to the rooms.
The apartments are designed with minimal internal circulation spaces with a large living dining area located centrally from which all the rooms are accessed.
Project on the Awards' website https://goldtrezzini.ru/en/nominees/ishatvam-9/
The International Golden Trezzini Awards for Architecture and Design are named after Domenico Trezzini (1670—1734), the first architect of St. Petersburg and the founder of Petrine Baroque. The Awards have been held since 2018. The motto of the Awards is "Architecture as Art." The Awards are intended to acknowledge and promote architectural and designer projects that amount to works of art. The Honorary Chairman of the International Council of the Awards is Mikhail Piotrovsky, General Director of the State Hermitage, St. Petersburg.
Winners of 2020 Golden Trezzini Awards are to be announced on December 1. Dates of 2021 Golden Trezzini competition will be determined in Q1, 2021.
The General Partner of the Golden Trezzini Awards is the State Museum of St. Petersburg History. Global partner is LAUFEN. Strategic partner of the Awarding ceremony is Etalon Group. Official partners of the Awarding ceremony are Setl Group, LenRusStroy Building Corporation, Alfa Faberge, LIIS, Stroysintez, Slavdom, and DEREVO-park. System Partner is RBI Group. Partner of a Special nomination is YIT. Partner of a nomination is Lenstroytrest Group. Partner of the Awarding ceremony is re:dis studio. To see a full list of the Awards partners please check https://goldtrezzini.ru/en/partners-of-the-golden-trezzini-awards-2020/.
More news of the Awards:
https://goldtrezzini.ru/en/news/
Follow us on social media:
https://www.facebook.com/trezziniawards/
https://www.instagram.com/trezziniawards/
Official partners
Media partners