Please welcome the brand-new poster of the Fourth International Golden Trezzini Awards for Architecture and Design.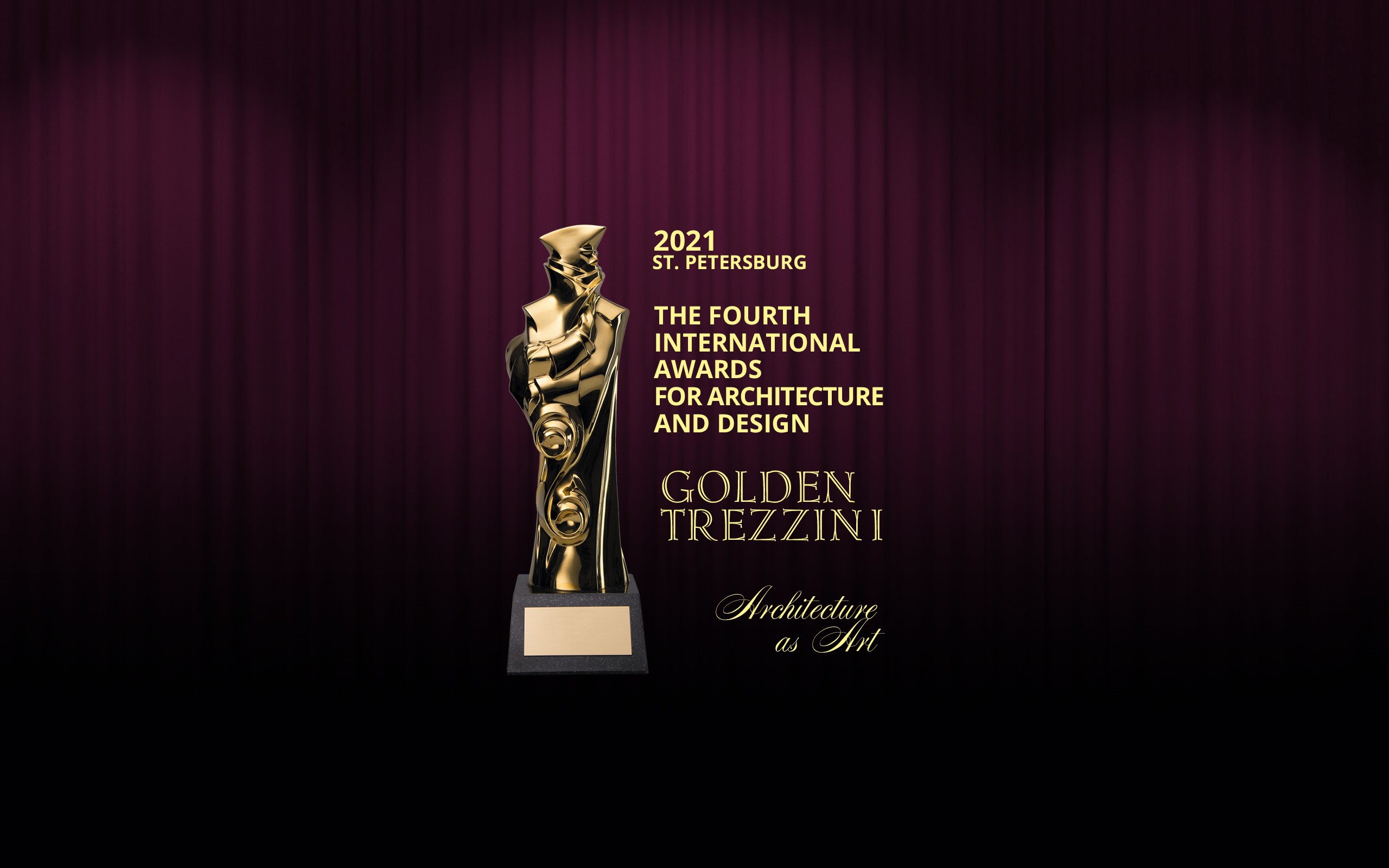 Every year the Golden Trezzini Awards renew their corporate identity. The classic gold of the figurine remains unchanged, but the background colour of the poster is different for each year and each competition. One week before January 1, we proudly present the poster of the Fourth International Golden Trezzini Awards for Architecture and Design – in aubergine colour!
Aubergine, or eggplant, is a dark purple or brownish-purple colour that resembles the colour of the outer skin of European eggplants. Aubergine colour, being a complicated mix of blue and red, calms and stimulates at the same time, psychologists claim. It helps to tune for introspection and focused insight, while awakening senses and creativity. This colour reaches for balance of awareness and peace. And what can be more substantial in the times of final battle for the win over the COVID, which awaits for all of us in 2021? One more thing about aubergine – it symbolizes of royalty, nobility and wealth. No surprise it goes together with golden so well!
The new colour of Golden Trezzini Awards will definitely attract talented and bright participants in 2021! Dates for next year's entries will be announced in spring.
The International Golden Trezzini Awards for Architecture and Design are named after Domenico Trezzini (1670—1734), the first architect of St. Petersburg and the founder of Petrine Baroque. The Awards have been held since 2018. The motto of the Awards is "Architecture as Art." The Awards are intended to acknowledge and promote architectural and designer projects that amount to works of art. The Honorary Chairman of the International Council of the Awards is Mikhail Piotrovsky, General Director of the State Hermitage, St. Petersburg.
2020 Golden Trezzini Awards winners were announced on December 1 in St. Petersburg.
The General Museum Partner of the Golden Trezzini Awards is the State Museum of St. Petersburg History. Global partner is LAUFEN. Strategic partner of the Awarding ceremony is Etalon Group. Official partners of the Awarding ceremony are Otis, Setl Group, LenRusStroy Building Corporation, Alfa Faberge, LIIS, Stroysintez, Slavdom, and DEREVO-park. System Partner is RBI Group. Partner of a Special nomination is YIT. Partner of a nomination is Lenstroytrest Group. Partner of the Awarding ceremony is re:dis studio. To see a full list of the Awards partners please check https://goldtrezzini.ru/en/partners-of-the-golden-trezzini-awards-2020/.
More news of the Awards:
https://goldtrezzini.ru/en/news/
Follow us on social media:
https://www.facebook.com/trezziniawards/
https://www.instagram.com/trezziniawards/
Official partners
Media partners