2019 Golden Trezzini winner participates in 2020 competition with a built private house in Norway.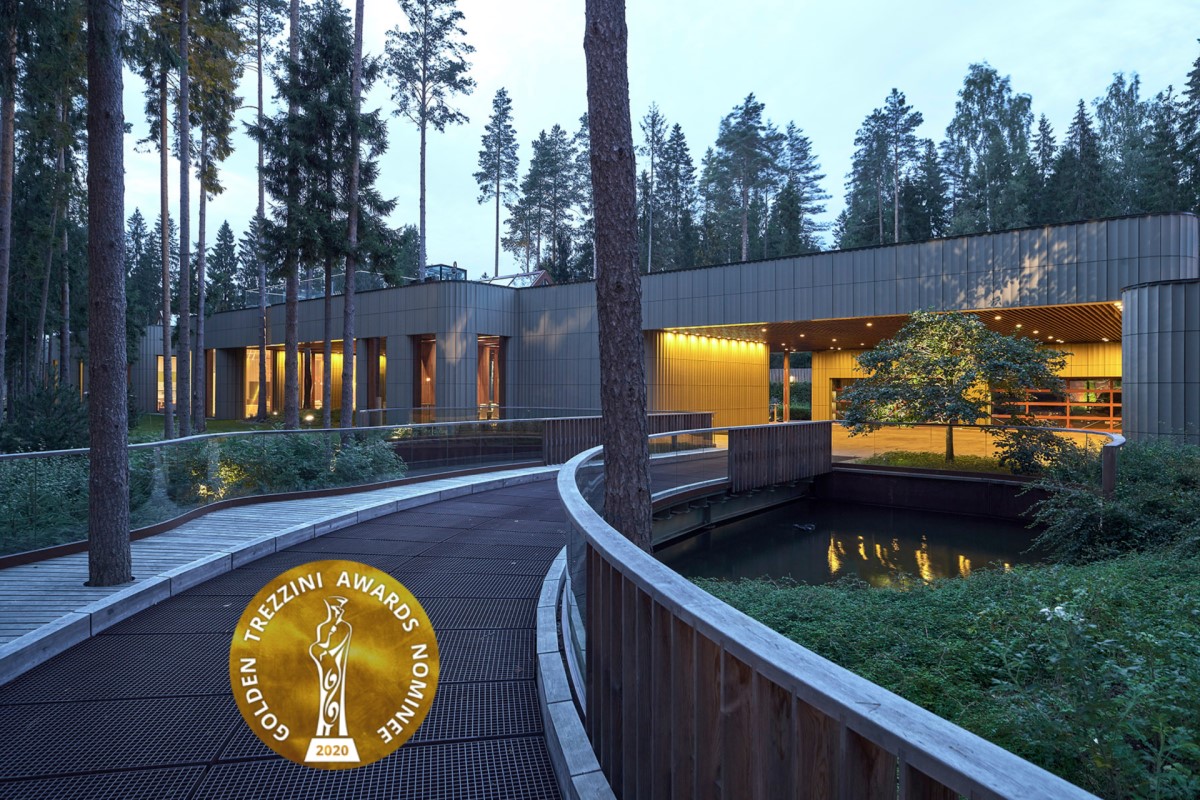 The energy-efficient residence, named Woods Formula House, comprises three zones: a parking with a shed, a guest house, and a villa with a swimming pool under a single roof.
The house seems to merge into the cone forest by the lake. Ceramic ash-green slabs with Doric cannelures, large floor-to-ceiling windows with light-green glass organically fit into the environment.
Every room of the house is lit with natural light. Thanks to rack ceiling, soft moonlight gets in through the roof lights. Automatic roller shutter systems are installed on the panoramic windows for sun shading.
Reserved pines go through the roofing and appear at the top summer terrace. The elevator shaft, the pond, the terrace, and the pines are enclosed with wind-proof glass screens.
The house was designed by Ingmar Vitvitsky, Ingmar Architects Bureau. In 2019, the bureau won the Golden Trezzini Award in the "Best Built Private Residence" category with their Bridge House of Gliding Light in Finland.
Woods Formula House on the Awards website https://goldtrezzini.ru/en/nominees/woods-formula/
The Golden Trezzini website users are welcome to vote for their preferred projects via Facebook, giving them a chance to win Premio del Pubblico Award. 200+ projects from Argentina, Australia, Belarus, Brazil, China, Egypt, France, Japan, Iceland, India, Indonesia, Iran, Italy, Korea, Latvia, Lebanon, Mexico, Moldova, Montenegro, the Netherlands, Norway, Oman, Portugal, Qatar, Russia, Saudi Arabia, Serbia, Singapore, Spain, Syria, the UAE, and the USA are approved for participation at the moment.
The International Golden Trezzini Awards for Architecture and Design are named after Domenico Trezzini (1670—1734), the first architect of St. Petersburg and the founder of Petrine Baroque. The Awards have been held since 2018. The motto of the Awards is "Architecture as Art." The Awards are intended to acknowledge and promote architectural and designer projects that amount to works of art.
The Honorary Chairman of the International Council of the Awards is Mikhail Piotrovsky, General Director of the State Hermitage, St. Petersburg.
Entries for the Third International Golden Trezzini Awards for Architecture and Design can be submitted at www.goldtrezzini.ru/en/ till October 15, 2020. Participation is free of charge.
The General Partner of the Golden Trezzini Awards is the State Museum of St. Petersburg History. The System Partner is RBI Group. Partner of a Special nomination is YIT. Official partner of the Awarding ceremony is LenRusStroy Building Corporation. Partner of the Awarding ceremony is Ganga Group. To see a full list of the Awards partners please check https://goldtrezzini.ru/en/partners-of-the-golden-trezzini-awards-2020/.
More news of the Awards:
https://goldtrezzini.ru/en/news/
Follow us on social media:
https://www.facebook.com/trezziniawards/
https://www.instagram.com/trezziniawards/
Official partners
Media partners