We are excited to announce that a new certificate design is to be implemented for all Golden Trezzini Awards Finalists!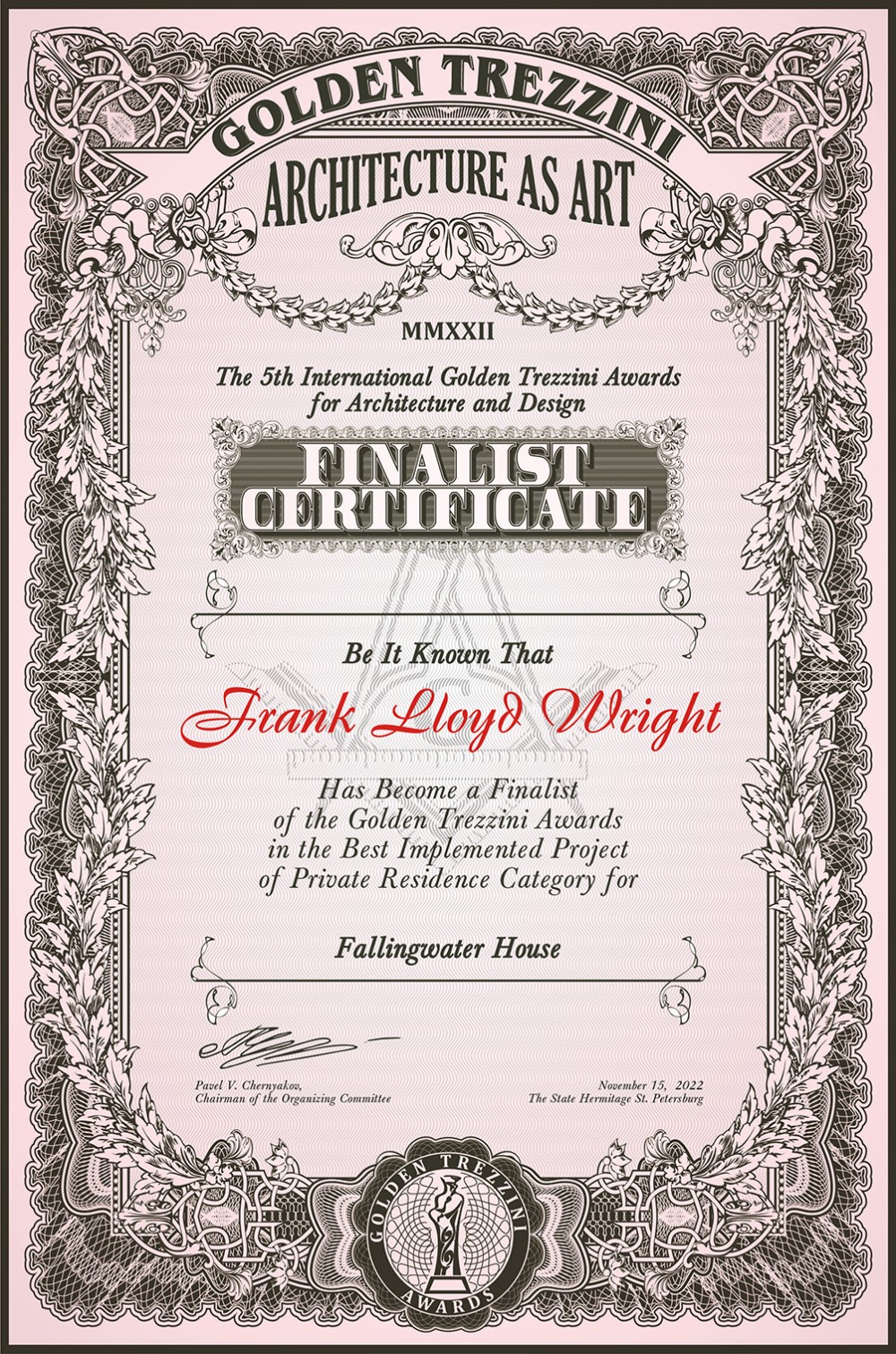 The composition and the sheets are the same as in the new Winner Certificate. In addition, the background color was updated, and the ornamental cartouche for the certificate title was modified.
The chosen 2022 Finalists will be announced on October 12. And the Certificates will be sent to all the Finalists by email after the awarding ceremony, which will be held on November 15. Each Finalist will receive a personalized PDF file suitable for printing out.
A complete review of the new Winner Certificate design is available on our website: https://www.goldtrezzini.ru/en/certificate-2022/.
The Golden Trezzini Awards are turning the most artistically valuable architectural, design, restoration, scenography, and exhibition projects into museum objects. The Awards winning projects selected by more than 230 experts from 35 countries are added to a state museum collection and take part in an annual exhibition. The motto of the Awards is 'Architecture as Art'. The main prize is a gilded figurine of Swiss Domenico Trezzini (1670—1734), the first architect of St. Petersburg.
This year, Golden Trezzini Awards will be handed out for the fifth time. The application phase for 2022 is already closed. More than 1,000 projects from 60+ countries have been submitted for participation. The Winners and Laureates of Award Certificates will be revealed on November 15 at the State Hermitage Museum in St Petersburg. Winners who couldn't attend the event in person will be able to get the Awards by mail.
Submissions for the 6th Annual Golden Trezzini Awards are scheduled to open in Q1 2023.
---
2022 Golden Trezzini Awards partners: the Strategic partner is BEL Development Group, the Strategic partner of the awarding is Etalon Group, the Premium partner is RSTI Holding, Official partners of the Gala evening are Rosseti FGC UES, KADO, and LenRusStroy Construction Corporation, the Official partner of the Awards is HQ | Windows Systems, the Partner of the category Best Implemented Landscape Architecture Project is ABZ-1 group. See https://www.goldtrezzini.ru/en/2022partners/ for the complete list of partners.
More news of the Golden Trezzini Awards:
https://goldtrezzini.ru/en/news/
Follow us on social media:
https://www.facebook.com/trezziniawards/
https://www.instagram.com/trezziniawards/