Project by Spanish ELA studio participates in the competition in the "Best Architectural Design for Museum" category.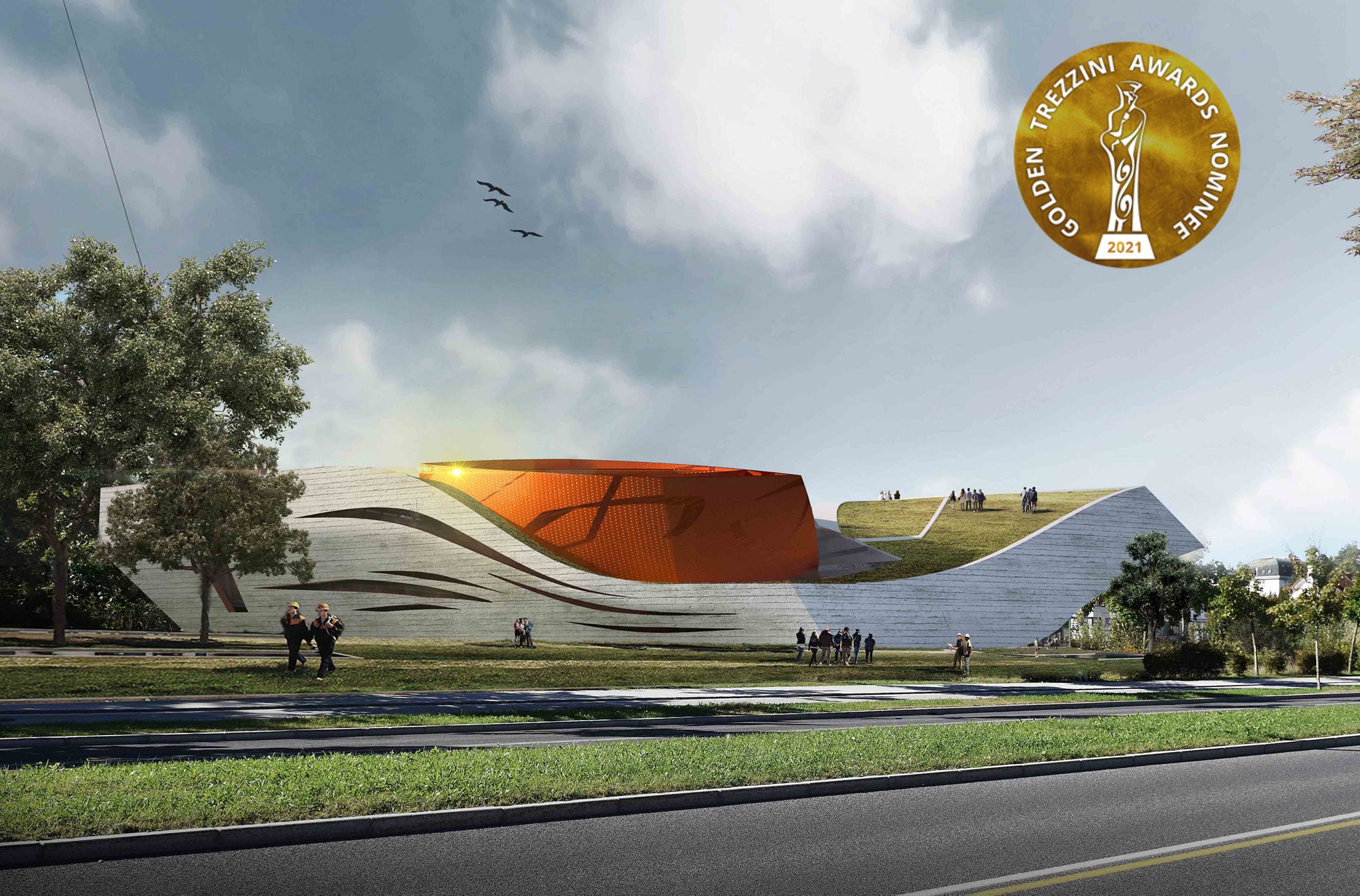 This new center in Ljubljana, Slovania, creates a different identity for the functional urban environment of Tmovo, where the volumetric mass of the building floats on a new urban fabric. Breaking the solid stone geometry of this green blanket that floats on the new urban context have 3 volumes, which give scale to the building and endow it with character.
Rejecting the notion of museum architecture as a neutral fund for exhibitions, the building itself is designed to be a teaching tool to demonstrate scientific principles. As an institutional aspect to improve public understanding of natural systems, address and exemplify environmental responsibility. Several strategies are being used to inspire learning and understanding, including the revelation of building structure and mechanical systems, technologies for energy saving and water reuse, and the integration of Slovenia's native ecologies in landscaping.
The project on the Awards website https://www.goldtrezzini.ru/en/nominees/science-centre-ljubljana-slovenia/.
The Golden Trezzini website users are more than welcome to vote for their preferred projects via Facebook, giving them a chance to win special Premio del Pubblico Award.
The Golden Trezzini Awards for Architecture and Design are named after Domenico Trezzini (1670—1734), Russian architect of Swiss origin, the first architect of St. Petersburg. The motto of the Awards is 'Architecture as Art'. The Domenico Trezzini gilded statuettes are awarded to the authors of architectural and designer projects that amount to works of art. The Honorary Chairman of the International Council for the Golden Trezzini Awards is Mikhail Piotrovsky, President of the World Club of St. Petersburgers and General Director of the State Hermitage.
2021 Golden Trezzini Awards winners will be awarded in November during the Gala-Night at the Mikhailovsky Theatre. The best projects by competitors will be added to the collection of the Architectural Graphics Fund at the Museum of St. Petersburg History and take part in an annual exhibition at the Peter and Paul Fortress.
Entries are open till October 1 at https://www.goldtrezzini.ru/en/application2021/. Nominees from all over the world are invited. More than 100 projects from 32 countries have been already accepted. Participation is free of charge.
The General Partner of the Awarding Ceremony is the Mikhailovsky Theatre. The General Museum Partner is the State Museum of St. Petersburg History. The independent auditor is Borenius Attorneys Russia Ltd. To see a full list of the Awards partners please check https://www.goldtrezzini.ru/en/partners2021/.
More news of the Golden Trezzini Awards:
https://goldtrezzini.ru/en/news/
Follow us on social media:
https://www.facebook.com/trezziniawards/
https://www.instagram.com/trezziniawards/
Official partners
Media partners